About us
Craving for delicious, spicy and flavourful Thai dishes? If you want great Asian food, you better come to Soi 9 Thai. We are located at Hardgrave Road, West End in Queensland. We have a wide range of Thai specialties such as Massaman Beef Curry, Chicken on Fire and Crying Tiger. We recommend our Thai Soups, which includes Tom Yum, Tom Kha and Tom Jeud Seaweed & Tofu. You should also try our Soi 9 Special menu, which includes Duck Basil & Chilli, Tofu Sweet & Sour Tamarind Sauce, Prawn Sweet & Sour Tamarind Sauce, Pla Rama Long Song and Sweet & Sour Crispy Pork. You can order online for takeaway and delivery by clicking on the Order Online button.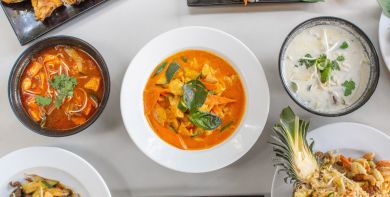 Reviews
Susan
"Food was delicious!!!!"
12/01/2020
Paul
"Great food as always. Very close to us and we eat there regularly - usually at the restaurant but sometimes take-away. The food is always very fresh and tasty at a very reaspnable price."
7/12/2019